Chem-spraying in Bali only started at the end of last year and there's been a succession of white un-marked prop-planes used.
The first one was rather small and had a red crop-sprayer slung under its right wing; this was replaced by a larger plane with a grey external sprayer under its left wing.
At the height of the monsoon season (that never happened) these were changed for two larger planes; one twin-engine and one with four engines (both apparently with internal sprayers).
Recently the wind changed back to its dry-season mode (blowing from the east) and the spraying seems much lighter with clear blue skies everywhere and they only seem to spray against any cloud that puts in an appearance.
He just sprayed a short trail right over my garden which disappeared slowly over the next 20 minutes and came back for a second look and I finally I managed to snap this rather poor shot of the latest spray-plane with its external sprayer clearly visible.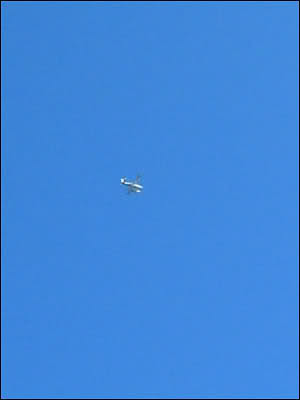 Edostar.
And here's another one of the same plane taken today (April 22):