Gifting in Bali is a lonely affair and as far as I know, I'm the only gifter on the island.
When I started making orgonite a few months ago, the sky was a hazy pale blue with no recognizable cloud-formations and I hadn't seen distinct cumulus for a long time.
Today the sky is a clear blue graced by majestic cumuli wherever one goes (in the south).
This suggests that Bali was indeed totally ungifted before I learned about orgonite a few months ago; a situation which I hope to rectify in time.
Whenever I have occasion to drive up north, the good weather fades as I climb into the hills of central Bali where familiar pale-blue hazy skies prevail, urging me to widen my field of scope from my own back yard to the mountainous north.
I'd like to site another two CBs in the north-east and the north-west respectively to triangulate the island but there are problems.
In contrast to its international image as a holiday destination, many of the Balinese are actually quite poor so a badly secured CB would quickly find its way to the nearest scrap-yard.
They are also a highly superstitious people and are devoted to their complex religion (a kind of animist version of Hinduism).
If it were known that there was a strange device in their village that could effect something as fundamental as the weather, any number of ills could be blamed on it and I fear that it would not be long before it would be destroyed by a lynch-mob.
For this reason I have told very few people about my own CB and any further devices would need to be placed with trusted allies who could keep a secret
Solitary gifting has many advantages and I generally cruise around on my motorbike with my shirt stuffed with TBs.
On a bike nobody bothers me; they haven't had the time to wonder what I'm up to before I'm in the saddle again and gone.
I'm fast enough to cover long distances with ease and slow enough to chug down alleyways pretending to be looking for an elusive address whereas in reality I'm searching for access to an elusive tower embedded in housing estate.
I can pretend to be fiddling with the engine when I'm actually burying a TB at the roadside and can pull up on the sidewalk to lob a couple into a river or an overgrown vacant lot.
In this way I've gifted most of the main roads and many of the smaller ones and sniffed-out the bulk of the towers in Denpasar, the major town in southern Bali where I live.
The 'city' of Denpasar is criss-crossed with rivers and storm-drains and these make excellent locations for general gifting.
The bulk of the public areas are swept fastidiously on a daily basis by an army of locals who take pride in keeping their houses and shop-fronts clean making the opportunities for sidewalk gifting few and far between.
As Hari mentioned in his Malaysia gifting reports, the danger of being mistaken for a terrorist in this part of the world is all too real.
There have been a number of high-profile bombing campaigns in the region that have had a catastrophic effect on tourism which used to be one of the major sources of foreign exchange and upon which many Balinese had come to depend.
One fortunate legacy of the erstwhile tourist trade is that Westerners have been visiting the island in such numbers for so many years that they aren't regarded as anything special anymore and clandestine gifting missions aren't likely to attract much attention (except where security is high).
Still, it would be a shame to end up in Guantanamo Bay for trying to bust a microwave tower.
Towers are often sited on private land and the owner receives a nominal rent and can still use the ground that's not taken up by the foundation stones.
I can only imagine what it must be like having a tower buzzing away in your yard but the locals don't seem unduly bothered.
I gifted this tower a few days before I went back to take this photo: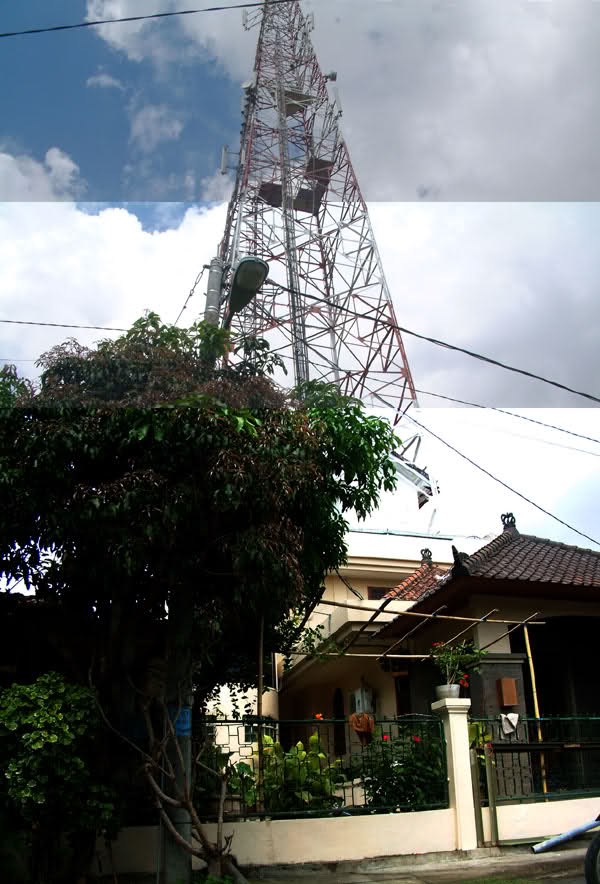 The house isn't quite finished yet and the owner has yet to move in (rather him than me).
Happy gifting.
Dan.