"I cry you mercy!" interrupted the Chancellor, who saw a dangerous enthusiasm rising in the King's face. "March upon Paris? Does your Excellency forget that the way bristles with English strongholds?"
"That for your English strongholds!" and Joan snapped her fingers scornfully. "Whence have we marched in these last days? From Gien. And whither? To Rheims. What bristled between? English strongholds. What are they now? French ones—and they never cost a blow!" Here applause broke out from the group of generals, and Joan had to pause a moment to let it subside. "Yes, English strongholds bristled before us; now French ones bristle behind us. What is the argument? A child can read it. The strongholds between us and Paris are garrisoned by no new breed of English, but by the same breed as those others—with the same fears, the same questionings, the same weaknesses, the same disposition to see the heavy hand of God descending upon them. We have but to march!—on the instant—and they are ours, Paris is ours, France is ours!"
From " Personal Recollections of Joan of Arc ", by Mark Twain, 1896
Everybody knows that, despite it's superior strength and size, you can grab a bull by its horns, and twist its neck in a way where you wrestle it down to immobility on the ground.
It's March 2020, and great positive changes are underway at every level of our reality. They began in earnest in 2012 and have been increasing in speed and magnitude since. I've been writing articles on the subject since 2013.
I have concluded that these changes are being driven by untold thousands of simple, inexpensive Orgonite devices based on Wilhelm Reich's work. And that those devices are collectively unknitting and transforming the ancient Death energy matrix that's been patiently built and expanded by our about-to-be-former Dark masters, well, all the way back to Babylon and before. And that, as a result, the Ether is returning to its natural, ages-long state of health and vitality.
One of those changes is that Nature is booming and burgeoning to a level not seen in my lifetime. Since that statement directly refutes our State Religion, which holds that " Poor Mother Gaia is Dying, Crushed by the Virus-Like Burden of Mankind ", I've appended numerous mainstream news accounts below to support it.
One, from January of this year, from Colorado, is headlined "The Humpback Chub Population Is Up , But Wildlife Groups Say Don't Call It A Comeback Yet ."
Where " up " and " groups " are both general . As you may recall, generality is a hallmark of propaganda.
The author has used the general " up " as a hedge against a far more impactful, specific statistic. So I had to do the math. The humpback chub population in Colorado increased 111% from 2000 to 2018. The chub population in Colorado more than doubled in less than twenty years - with no fish stocking.
The general, fictitious " groups " is used to imply that it's agreed by all that it's NOT a comeback. You've been firmly presented What To Think . And the final hedge, "y et ", is thrown on at the end so you don't string the shill author up from a lamp post.
The words " mystery ", " baffled " and " puzzled " are memes, used, among numerous similar variants, whenever anyone in the wholly-controlled-and-coopted Political, Academic, Scientific and Media establishments want to lie about, well, basically anything. One of those variants is " surprised ."
That's why another story below, about fish and butterflies coming back in Taiwan reads "Another surprise for visitors is that the valley is home to many butterflies."
And it's why, in another story below, about the comeback of coral reefs in Jamaica, we read "That same decade, a mysterious epidemic killed more than 95% of the black sea urchins in the Caribbean, while overfishing ravaged fish populations."
As you can see, back in the 1980's, the folks in charge engineered and released a designer virus to wipe out the black sea urchins in the Caribbean. In the same way they just released another in a long series of engineered flu virii on the human population.
The great positive changes are increasing in speed and magnitude, while the propaganda rebutting them remains static. So it's only a matter of time until the confidence game collapses. And I don't think it will be long. The heavy hand of God is descending upon them.
And, the moment the unholy regime collapses, everyone who hadn't seen through the con will switch to "oh, I saw through it all the time!"
And that's okay. Because only a small subset of the populace has to get it, and take action. We have but to march!
Remember: when confidence games collapse, they do so in a rush, like a house of cards.
Jeff Miller, Brooklyn, New York, March 29, 2020
If you'd like to be added to the mailing list, or know someone who would be, please send me a note at [email protected]
April 11, 2010 - On March 30, Robert McCrummen of Carrollton, a lieutenant with the Dallas Fire Department, was tending his jug lines at Lake Palestine when he boated a lake-record blue catfish weighing 64.62 pounds. The fish surpassed the old lake-record mark of 62.5 pounds caught in 2002.
(This is jug line, not rod and reel. It's 3.3% larger than the previous record holder. - ed)
February 12, 2014 - The new blue catfish record made a more definitive statement. Weighing in at 47.27 pounds, it erased the old mark by just under three pounds.
The newest record blue was caught by Johnny Ward, of Paris. Ward was fishing in the Creek Side Sports tournament when he caught the big cat on rod and reel. It eclipsed the old record fish weighing 44.5 caught in February 2010 by David Spivey, of Chandler.
(Where the general " by just under three pounds " was used as a hedge in place of the far more impactful, specific statistic: the new record is 6.2% larger than the old. Such records are usually broken by tiny margins. - ed)
September 19, 2019 - 'The coral are coming back': Reviving Jamaica's elegant and essential coral reefs
After a series of natural and man-made disasters in the 1980s and 1990s, Jamaica lost 85% of its once-bountiful coral reefs. Meanwhile, fish catches declined to a sixth of what they had been in the 1950s, pushing families that depend on seafood closer to poverty. Many scientists thought that most of Jamaica's coral reef had been permanently replaced by seaweed, like jungle overtaking a ruined cathedral.
But today, the corals and tropical fish are slowly reappearing, thanks in part to a series of careful interventions.
"The coral are coming back; the fish are coming back," says Stuart Sandin, a marine biologist at the Scripps Institution of Oceanography in La Jolla, California. "It's probably some of the most vibrant coral reefs we've seen in Jamaica since the 1970s."
Peter Gayle has been a marine biologist at Discovery Bay since 1985. From the yard outside his office, he points toward the reef crest about 300 meters away – a thin brown line splashed with white waves. "Before 1980, Jamaica had healthy coral," he notes. Then several disasters struck.
The first calamity was 1980′s Hurricane Allen, one of the most powerful cyclones in recorded history. "Its 40-foot waves crashed against the shore and basically chewed up the reef," Gayle says. Coral can grow back after natural disasters, but only when given a chance to recover – which it never got.
That same decade, a mysterious epidemic killed more than 95% of the black sea urchins in the Caribbean, while overfishing ravaged fish populations. And surging waste from the island's growing human population, which nearly doubled between 1960 and 2010, released chemicals and nutrients into the water that spur faster algae growth. The result: Seaweed and algae took over.
"There was a tipping point in the 1980s when it switched from being a coral-dominated system to being an algae-dominated system," Gayle says. " Scientists call it a 'phase shift.'"
January 3, 2020 - Colorado - The Humpback Chub Population Is Up , But Wildlife Groups Say Don't Call It A Comeback Yet
Officials say managing river flows from dams and removing fish that feed on humpback chub have helped boost numbers.
The humpback chub, a native fish that calls the Colorado River Basin home, went on the endangered species list in 1967. But that could change soon, a possibility that has some wildlife groups concerned.
In 2018, the U.S. Fish and Wildlife Service said it would consider downgrading the fish's status to "threatened." Now the agency will recommend that reclassification after determining that the species is no longer in immediate danger of extinction.
"We have stability and viability of this species out there in the Colorado River system," said Tom Chart, director of the Service's Upper Colorado River Engadered Fish Program.
In a five-year review of the humpback chub that ended in 2018, the Service found that all five populations of the fish had stabilized without stocking them with fish from hatcheries.
The agency now estimates 19,000 wild adult chubs exist altogether, Chart said. The population was around 9,000 in 2000, the year when the service really started tracking them.
February 7, 2020 - Taiwan - Fish, butterflies making comeback in Jhonsing
PROTECTING THE LAND: Community volunteers have worked to repair the Sanhe River Valley, but now they want more power to protect it from dangerous fishing
Conservation efforts for the Sanhe River Valley (三合溪谷) near Kaohsiung Liouguei District (六龜) have helped bring back a fish endemic to Taiwan and purple crow butterflies, Jhongsing (中興) Borough officials said.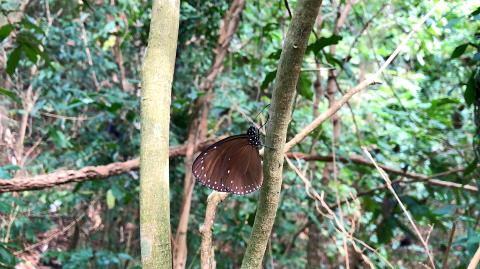 A purple crow butterfly yesterday sits on a tree trunk in Kaohsiung's Maolin National Scenic Area.
Every flood had destroyed the community's fish ladder, but the tireless efforts to clear away the rubble and rebuild has been rewarded with a plentiful amount of the fish swimming in the river, including Onychostoma alticorpus, he said.
The project originated after a community member visited the Tanayi Valley (達娜依谷) on Alishan (阿里山) in Chiayi County and began advocating for a local conservation effort, Wang said, adding that the project now has 25 volunteers who patrol the valley to ensure it remains pristine.
"Another surprise for visitors is that the valley is home to many butterflies," he said.
A former borough warden, an octogenarian, confirmed that Euploea butterflies, among other varieties, frequented the valley, he said.
However, the location where the butterflies originate remains secret to prevent them from being disturbed, he added.
February 21, 2020 - Officials: Seagrass Comeback Shows Improving Health in Indian River Lagoon
SEBASTIAN INLET, Fla. — Good news for the Sebastian Inlet and the struggling Indian River Lagoon: One key component to the water's health is making a big comeback.
"Seagrass is really important, that's what brings the fish in and out," said Jerry Mytych, who loves to come to Sebastian Inlet for a day of fishing.
"I think we are improving, we are definitely improving," he added.
"We are starting to see that resurgence now," says James Gray, Executive Director, Sebastian River Inlet District. "Seagrass is a good indicator of the health of the lagoon."
Officials have seen a resurgence of seagrass, which is essentially a river bottom nursery and source of food for all kinds of fish and manatees.
(No statistics of any kind are provided. The generational Satanist quoted in the mainstream news article says "I think we are improving…to get the question of whether it's taking place seated in your subconscious. Then bizarrely follows with "we are definitely improving." - ed)
March 2, 2020 - Lake-record blue catfish caught on Lake Palestine, weighing 48.2 pounds, 45.5 inches
The first place he went, they had a propane scale, which can not be used to weigh a fish for a state record. However, it weighed 49 pounds and that was enough to attract a crowd. A game warden suggested Robert go to Athens Freshwater Fisheries.
Sure enough, the 48.2 pounds eclipsed the previous rod-and-reel blue catfish record for Lake Palestine. The paperwork has been filed with the state for official certification.
(Makes no mention of the previous record. "Eclipses" implies "just exceeded." - ed)