Quite often when We are thinking of starting a ,new never before attempted by Us, Orgonite project it is
very revealing how successful it will be by the, unfortunatally succesful attempts by THEM to slow the project down or stop
It all together… This 108 project was no different ….within 1 hour of getting back from bkk I had the smoothest 108 gifting tbs sorted arranged out on the floor in a crude 108 design to see how big a chunk of wood We needed to get tommorow … then Na walked in the door asking
why the POLICE were asking around about Our address while We were away… lived on this soi for over 3 years and I think I've only seen one cruiser a couple yrs ago . and I hadn't even made a crude arrangement on the floor yet and now the POLICE are looking for Our house…
Took Us about better part of a week to get everything together to build the first one…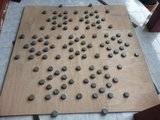 and in that time incredible Sylph shows with the most spectacular being 2 days before final assembly hundreds of small identical Sylphs filled the sky like a regiment waiting for an assignment was beautiful sorry no pics…….
Went with 6' for the first one , started rain
Storming, thunder lightening the day before in anticipation of it …
Soon as the last tb was glued in place We heard a large very slow moving jet directly overhead Our property at an extremely high altitude… It was all white cept for the back third was dark blue… We knew the jet was assessing the drastic increase in the por field…. By 5pm small drizzling started, 5:30
Lightening flashes off in the distance… The rain kept on building into a full on down pour with 8 hrs of thunder and lightening… Na said this is not suppost to rain like this in the dry season…
The next day Sunday We heard numerous reports of 30 minute hail storms 5 km nw of Us…. front page of the paper said"lemon sized hail stones in the north of thailand many homes damaged and more expected to come….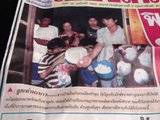 By Monday the outer edges of the KHEMKRUD we're lightening up enough to give Us the nicest mountain sunset WE've ever experienced ,the sky was so clear the sunset was the most incredible I've seen in northern Thailand in 5 yrs….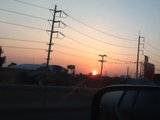 . the only time We've ever cleared for a sunset like that is 3 days after arriving on the beach with the beachbuster laying on the sand pointing towards where the sunset is going to be…. in this case all we did was assemble Our first 108…. these 108's are powerful! and is easy to see, when looking back, why I was kept away from deploying one till now… the one were building now is 8'x8'
and will go up from there… thinkiing want to try 108 ep's sledged in … hmm I wonder if that could be done with a 100' tape? any ideas out there for Me on this?
We also heard hail reports of the night Before 10 km west of Us!- That's 2 nights of back to back hail hmmm. Hail is Very rare in Thailand … Last time We caused that was 3 years ago when We built and gifted out some c/bs here … The hail made the paper quoting an aging resident that He hadn't seen hail for 68 years….
the factory sold 5 of Our new larger earthpipes to Alex in malaysia and He reports "Maybe it's just my area, but it's almost like monsoon season. It's really weird. I've never seen this kind of weather at this time of year. It should be dry and sunny, but it's not. I'm worried what the actual monsoon season is going to be like… Right now for example, it's raining, raining for the past 3-4 hours. Rained almost every single night.
3 days ago it was bad, the thunder was shaking the house so much I though bombs were dropping. The roof, doors and windows were vibrating so hard that it set off the alarm three times. Crazy!
-Alex"
Crazy is right… Today the sky was absolutely spectacular… Driving out for My nightly brisk walk/exercise, into the sunset , couldn't believe how clear the tall doi Suthep mtn is… So clear it was almost like the mountain moved closer… Crazy…. Mathew will ride His scooter up there tomorrow and take pics …. I've never seen Chiang Mai crystal clear from up doi Suthep in 5 years… This will be incredible evidence of how powerful these 108s are if its as clear as I suspect if is holds tomorrow wow just can't wait, plus the new 8'x8' should be assembled grid willing tomorrow…. Oh btw We had no less then 4 copter flyovers today while working on the 8' 108 [Image Can Not Be Found]
[Image Can Not Be Found]. THEY hit Us overnight with the worst whiteout We've seen yet… Can't even see doi Suthep mountain anymore and it is 15 miles in front of Us… 8' 108 is almost ready and will be deployed an the roof soon,…
Will see how long THEY can keep this up??
Workin on the next 8' 108 for Bangkok and another for Our rice farm Orgonite experiment in Nakhon Sawan…
… 2 days later and still whiteout…. 8' 108 is standing up on its side so can receive 3 coats of stain to hopefully discourage ants here in the sub-tropics…
Next day While staining turns out We only built a 107 so the final
T/b just glued on today …. Will be interesting to see what happens when the 8' gets turned up to the sky… The roof, it will be mounted on, points at about a 30 degree angle towards doi Suthep mum(thai mtn)
The 6' has been deployed/buried all this time, can't see the sky although points skyward…
Got the 8' mounted on the roof today and a spectacular Sylph showed up….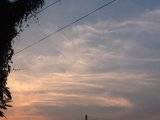 within an hour clearing a nice blue patch overhead but… We have been inundated with the hazy whiteout for days now and it is not water vapor I'm sure …. A German expat friend of a friend sent word to Me that I have to make more Orgonite cause Hs new Baby is having trouble breathing when outside and others have noticed the whiteout itching Their noses for over a week now… I explained the latest ATTACKS are directly related to the deployment of the 108s…. ie: before during and after the 6' deployment, skies were incredibly clear then THEY hit Us!
This is embarrassing , Our 8' 18 pattern was cut out incorrectly [Image Can Not Be Found]
Will make a new one soon and get galvanized flat metal roofing sheets to build the new 108s with…. If I wasn't so occupied daily with taking on the most corrupt g& si CABAL IDE like to think would have noticed this before the roof mounting but I got to say by the appearance of the Sylph shortly after the roof mounting these things are powerful … Can't wait to see just how powerful an 8' is when using an accurately drawn pattern!….
Next day… Very interesting day . The pattern is only out 1" on a few and the tbs are fullsized 3" muffins so it seems to be still workin ? Guess only 1" out on 3" still puts the tb where its suppost to be at least the centre of it… The white haze is staring to diminish and THEY are no longer flying over during the day but shortly after sunset there were numerous low flyovers many slow moving large jets and a big ARMY type helicopter by the sound of it Huey?... Flying over at night can only be cause THEY know We collect THEIR pictures (when were quick enough)… should post this ongoing 108 record soon as it's very obvious THEY are paying very close attention to this 108 experiment!
Local Sunday night market was forced to close as a few hours of lightening brought rain and wind… It is not suppost to be storming like this now with the hot /dry season upon Us…
Wind is becoming noticeable the last few days as well…. Wind is vey rare in northern Thailand that I've seen over the last 5 yrs… compared to sk especially Makes little or no wind enjoyable and starting to look into paragliding lessons… it would sure be an incredible feeling gifting while sailing through the skies with the Sylphs guiding the way… Helmet cam on flying through a Sylph [Image Can Not Be Found]