WILLY'S WAND—A Cloudbuster.
This weather control unit, colloquially known as a cloudbuster, was built by the author from the basic inventions of the late Dr. Wilhelm Reich. As an investigator of etheric energies and forces, the author is convinced that the same primary energy manipulated in such units as this is the operative power behind UFOs of both the biological and construct type. He has used special variants of the cloudbuster to attract and photograph UFOS with techniques he developed in the 1950s.
From: "The Cosmic Pulse of Life"
Trevor James Constable
I was googling cloud busters and
I found the photo parked at a german website and then I linked over to more german intel on ufo's and such, but I can't read german, so I don't know if they are a source of good intel or dis info.
I also keyed worded willys wand and it led me to an article about it on http://www.educate-yourself.org, which bty is where
I first learned of Don and Carol Croft and their new cloud buster. That was in back in 2001 !
As far as Trevor James Constable goes, I think on the old cloud buster forum we all figured out that Trevor was
more into making money with his cloud buster than exploring the usefullness of the Don Croft style cloud buster, which we all know to come and love WORKS. I listened to Trevor on a Rense radio broadcast 5 years ago warn people to stay away from
trying to modify the weather on their own and leave it to the experts like him .
I haven't heard much on what Trevor has been up to lately, since I think the bad talking of Don's cloud buster backfired on them and
drove 100's if not 1000's to want to learn more and eventually build there own Croft style cloud buster.
I personally don't like being told what to do by anyone, so I can see why when Trevor said that, I was well, OK then
let's build one . [Image Can Not Be Found]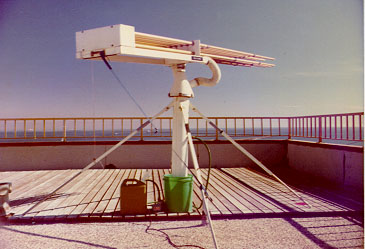 Mr. Constable's cloud buster Willy definately brought some ufo traffic by overheard, since you can observe the ufo traffic filmed on a google video from a link on one of the sites below.
http://www.lodedevroe.be/content/?cat=15
http://www.ufowijzer.nl/tekstpagina/The
http://www.ufowijzer.nl/UFOs.html
http://www.ultimetevision.com:2652hpiz