Click here for the direct link to the map.
The above map contains locations of cell phone towers (red dots) and approximate locations of orgonite gifts (green dots) throughout the world.
The map is live and updated whenever new information is PMed to a moderator or pasted into this thread.
Information about cell tower locations and gifting locations is invaluable so that gifters don't accidentally set about gifting an area that is already thoroughly gifted, and gives some basic targets for gifters in the form of cellphone/mobile phone towers.
Please paste any updates in this thread by copying and pasting data from Excel.
Upon reviewing the data, a moderator will add any new towers and new locations of orgonite gifts to the map.
In order for us to add the data, we need it in a specific format.
First column is named "id" in the header row, and contains either:
– "-1" for an orgonite gift location
– Any number (e.g. 123456) for a tower location
Second column is named "lat", short for latitude, and must contain the latitude data for the gift or tower location.
Third column is named "lon", short for longitude, and must contain the longitude data for the gift or tower location.
Below is what some sample data looks like in Excel: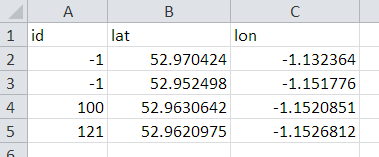 This data was copied from excel and pasted into the forum post directly, which is displayed on the forum as follows:
| id | lat | lon |
| --- | --- | --- |
| -1 | 52.970424 | -1.132364 |
| -1 | 52.952498 | -1.151776 |
| 100 | 52.9630642 | -1.1520851 |
| 121 | 52.9620975 | -1.1526812 |
Any number of locations (or rows) can be pasted here at once. It is easier for us if you can save up many locations and post to us at one go, perhaps on a monthly basis.
You may wish to record locations as you are in the field via a navigation device or Google Maps. You could also use Google Maps to provide locations after the event, please make sure you make the locations as accurate as possible if you are recalling them from memory.